Highly reliable and real-time 5G networking for industry 4.0

The overall goal of TACNET 4.0 is to develop a unified industrial 5G communication system that consistently integrates 5G networks and industrial communication networks. To this end, 5G concepts are being extended with innovative industry-specific approaches, cross-network adaptation mechanisms have been developed, and open interfaces between industrial and mobile radio systems have been developed. Innovative 5G technologies can support demanding and previously unrealizable scenarios in process and factory automation. Such a scenario might be the remote control of mobile equipment or robots that are designed to operate in dangerous environments or the operation requires experts that are not locally available. The project is investigating new approaches like Big Data analytics, Edge-Cloud supported real time control, and remote services.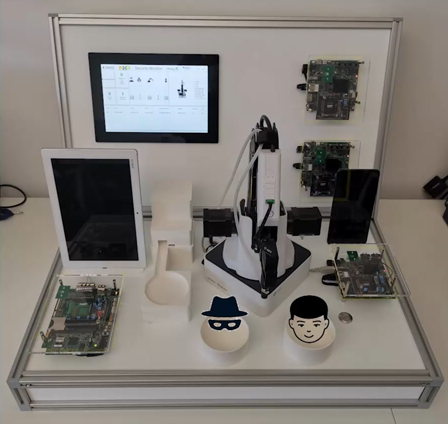 Further application examples would be the
support of workers by experts at other locations with Augmented Reality
support for automated guided transport vehicles
control and management of industrial communication networks
efficient use of spectrum resources for highly reliable communication
The greatest challenge facing TACNET 4.0 is to integrate future 5G networks and other current as well as new industrial communications systems to support a wide range of industrial applications, including the integration of field bus systems. TACNET 4.0 relies on open interfaces, so that network functions can be expanded, for example, through apps. Additionally, initial attempts are being undertaken to use mobile wireless networks for wide area coverage, instead of only the current local wireless sensor networks or WLAN.
The focus of OTARIS is mainly on the quality of service (QoS) for different applications and the co-development of the security concept, which also includes a complete security analysis of the TACNET modules. In addition, OTARIS will support concept development for Edge Cloud and develop interfaces for network control and management.
Project duration: 01.04.2017 – 31.03.2020
Participating project partners:
ABB AG
Ascora GmbH
DFKI — German Research Center for Artificial Intelligence GmbH
Götting KG
inIT – Institut für industrielle Informationstechnik
MECSware GmbH
Nokia Solutions and Networks Management International GmbH
NXP Semiconductors
OTARIS Interactive Services GmbH
Robert Bosch GmbH
Technische Universität Dresden
Universität Bremen

Associated project partners:
BASF SE
Busch-Jaeger Elektro GmbH
Hirschmann Automation and Control GmbH
Innoroute GmbH
it's OWL Clustermanagement GmbH
owl Maschinenbau e.V
PHOENIX CONTACT GmbH & Co. KG
Vodafone GmbH
Website: www.tacnet40.de
This project is supported by the Federal Ministry of Education and Research.