Big Data is considered the key technology of digital transformation. With the help of Advanced Analytics and Business Intelligence (BI), successful companies can generate new knowledge from data, add value and develop new business models. We help our customers to analyze their data and business processes, generate valuable information and thus secure competitive advantages.
Gaining knowledge with CRISP-DM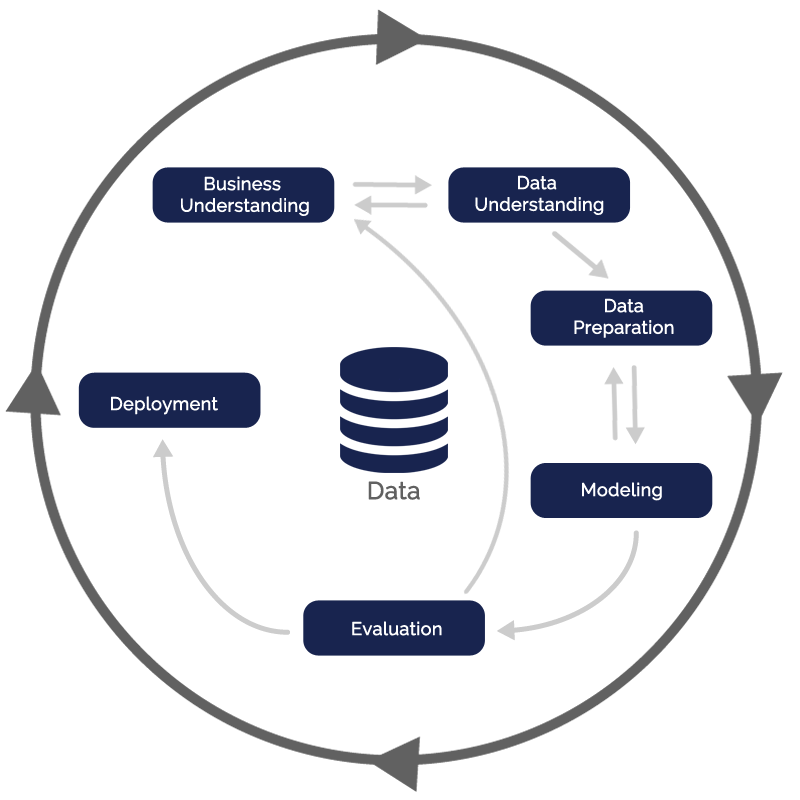 We advise objectively and independently on the next strategically most sensible steps and develop BI and Analytics solutions for pattern recognition, forecasting and simulation. The aim of these solutions is to gain insight into operational and strategic company management and the efficient organization of business processes. A commonly used method CRISP-DM (Cross Industry Standard Process for Data Mining). The method itself has a goal-oriented and clear process, but the individual steps can be adapted individually to the needs and problems of a company.
We support you in adapting the individual steps to your company and carry them with you in order to create more efficient business processes together. It is irrelevant whether the data sources are structured or unstructured. Current tools such as Apache Hadoop® or Apache Spark® are used for all operations and work steps. There is not only the possibility of pure use, but also the possibility of passing on the knowledge through coordinated coaching. If the available open source technologies do not meet your organization's needs, we design and develop customized Big Data applications to ensure successful analysis.
Our services in the area of Big Data & Advanced Analytics:
Analysis, design and strategy consulting in the Big Data environment
Conception, development and implementation of Big Data applications
Data Preparation / ETL and Data Exploration
Consulting and design of data marts and data warehouses
Support for prognostic modeling and geographic data analysis
Text Mining / Natural Language Processing (Sentiment Analysis, Concept Extraction, Classification)
Processing of structured and unstructured data sources
Coaching of Data Mining and Data Science Tools
Consulting for Open Source Big Data Technologies such as Apache Hadoop®, Apache Spark®, ELK Stack
Conception of various visualization possibilities of large data sets
KPI Specification, Monitoring and Reporting